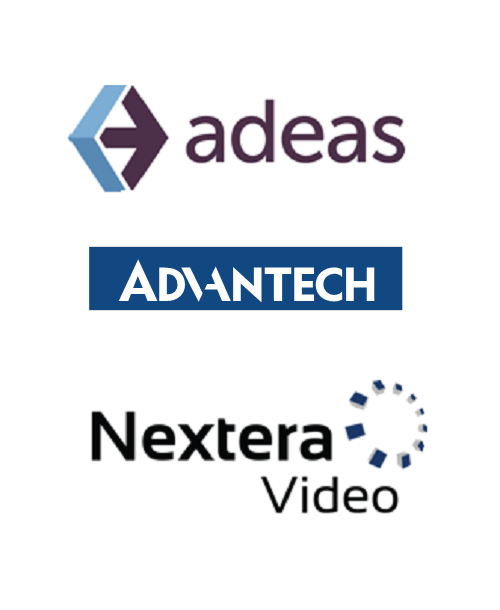 September 20, 2019

For Immediate Release:
Advantech accelerates the move to IP with Adeas/Nextera ST2110/NMOS core
September 13, 2019 – Amsterdam, Netherlands – Nextera Video and Adeas are proud to announce that Advantech, a leading global provider of video imaging products and solutions, is the latest to adopt their industry leading ST2110/NMOS FPGA core set for use in the Advantech VEGA video solution product line. The Adeas/Nextera core set enables partners like Advantech to get products to market quickly with a proven interoperable solution.
The SMPTE suite of standards for Video over IP includes ST2110 for video, audio, and ancillary along with ST2059 for Precision Time Protocol (PTP) synchronization and NMOS for seamless interoperable control. The core set includes not only the SMPTE ST2110 & ST2059 components, but also the framers, packet filters, internal processor and software stack to complete the package.
"The proven interoperability and turnkey integration of the Adeas/Nextera solution were key for us," explained James Yang, vice president of Advantech Networks and Communications Group. "The Adeas/Nextera core is fully modular, allowing us to customize it to our specific needs while maintaining a small FPGA footprint," Yang continued.
"We are pleased to add Advantech to the growing list of Adeas/Nextera partners," said Jed Deame, CEO of Nextera Video. "Their innovative VEGA video solution products enable OEM customers to transition into the world of IP seamlessly."
The Adeas/Nextera solution has been validated at numerous industry interop events including the EBU/IRT "JT-NM Tested" program and is being demonstrated at the Nextera-Adeas booth at IBC 2019 in Amsterdam, Hall 2, Stand C15. The latest version of the cores will be demonstrated highlighting new features such as turnkey SMPTE 2022-7 failsafe and the new NMOS IS-08 audio mapping feature.
About Advantech Video Solutions:
Founded in 1983, Advantech is a world-leader in providing trusted, innovative embedded and automation products and solutions. Advantech VEGA Video Platforms and PCIe Adapters are designed to boost video infrastructure performance from acquisition to distribution at the lowest power budget while fully complying with the media industry needs. By providing access to the latest 4K/8K UHD video processing and IP media technologies on commercial-off-the-shelf IT platforms we accelerate the deployment of next-generation, open and more efficient video solutions across a wide range of applications from broadcast encoding and high-density OTT transcoding to cloud, mobile and 360° video. Advantech's standard portfolio can be tailored to meet a range of system requirements, significantly reducing time-to-market effort for our customers. Contact video.solutions@advantech.com or visit www.video-acceleration.com. For more information, visit www.Advantech.com. Find Advantech on Facebook, Twitter, LinkedIn and Youtube.

About Adeas:
Adeas is an independent design house developing customer-specific electronic products and (embedded) systems serving our worldwide customer base. We develop and integrate IP, modules, boards and systems to specification for customers in the broadcast and pro AV industry and specialize in FPGA and SoC-based solutions.

About Nextera Video:
Nextera Video is a video processing firm whose mission is to solve the problems required to enable video over IP and hardware virtualization as part of the future software defined data center for broadcast. Nextera's JT-NM Tested and field proven NMOS cores enable its worldwide customer base to rapidly deploy Interoperable AV over IP products.