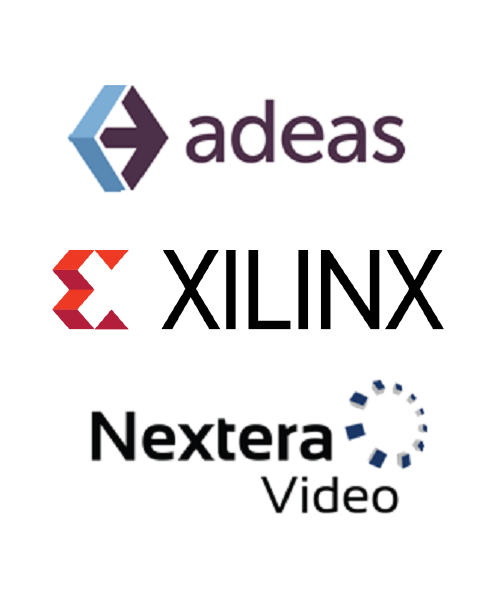 January 30, 2020

For Immediate Release:
Nextera/Adeas to demonstrate 4Kp60 AV over IP using FPGA cores capable of running on 1G to 100G IP networks
January 28, 2020 – El Dorado Hills, California – Nextera Video and Adeas have announced they will be exhibiting at ISE 2020 as part of the Xilinx booth in Hall 15 (15-D240). Integrated Systems Europe (ISE) is the world's largest exhibition for Pro AV and systems integration and will be held at the RAI Amsterdam from February 11-14, 2020.
Nextera/Adeas are Xilinx Certified Alliance Members and will be showcasing their industry-leading FPGA core set for AV over IP. The Nextera/Adeas cores conform to SMPTE standards for ST2110 Video/Audio over IP, including ST2059 precision time protocol and NMOS control software.
The transition from HDMI/SDI to IP is already well underway with SMPTE standardized solutions being rapidly adopted in broadcast. IP-based systems offer
greater functionality and lower cost compared to traditional HDMI/SDI-based systems. AV over IP is highly applicable in the Pro AV market and standardized
solutions bring interoperability and vendor independence.
The Nextera/Adeas core set is JT-NM Tested and has passed rigorous testing at numerous industry interop events, ensuring customers can get products to market quickly with a proven interoperable and effective solution. The IP cores have a small FPGA footprint and are fully modular in design, allowing partners to choose any combination of cores, custom tailored to meet their specific needs.
New demonstrations for ISE 2020 include 4K Video over IP, applicable for 1G, 10G, 25G, and 100G networks. The Nextera/Adeas core set is network speed
independent and offers all of the components required for standards-based AV over
IP.
Xilinx will also be demonstrating their impressive advancements in 8K HDMI 2.1 and 4K Low Latency H.265/H.264 Streaming, as well as Machine Learning for Digital Signage, Cameras, and Encoding. Registration for ISE is free with the code 917390.
For more information on the Nextera/Adeas FPGA core set or to schedule a personalized demo, technical consultation, or project review with one of our
Video over IP experts, please contact sales@nexteravideo.com.
To learn more about ST2110, visit http://www.nexteravideo.com/st-2110
PR Contact:
Spencer Deame
spencer@nexteravideo.com
About Nextera Video:
Nextera Video is a video processing firm whose mission is to tackle the challenges required to enable video over IP and hardware virtualization as part of the future software defined data center for broadcast. Nextera's JT-NM Tested and field proven NMOS cores enable its worldwide customer base to rapidly deploy Interoperable AV over IP products. For more information, visit www.nexteravideo.com.


About Adeas:
Adeas is an independent design house developing customer-specific electronic products and (embedded) systems serving our worldwide customer base. We develop and integrate IP, modules, boards and systems to specification for customers in the broadcast and pro AV industry and specialize in FPGA and SoC-based solutions. For more information, visit www.adeas.nl.

About Xilinx:
Xilinx develops highly flexible and adaptive processing platforms that enable rapid innovation across a variety of technologies – from the endpoint to the edge to the cloud. Xilinx is the inventor of the FPGA, hardware programmable SoCs, and the ACAP, designed to deliver the most dynamic processor technology in the industry and enable the adaptable, intelligent and connected world of the future. For more information, visit www.xilinx.com.