Are you an experienced designer of digital and/ or mixed signal/RF electronics and ready for a next step?
Do you enjoy designing advanced electronics from scratch and bring your design to validated prototypes?
Are you comfortable to communicate with customers as well as suppliers on a technical level?
Adeas is an advanced electronics design services and IP-core company, specialized in (co-)design of advanced IP cores, modules and products. Most projects Adeas takes on are directly for a specific customer active in one of four markets (Broadcast, Video and Imaging, High Tech Industrial or Test & Measurement). The main in-house development disciplines are firmware (FPGA programming), electronics design and (embedded) software. Depending on the size of a project the project team can vary from 2 to 8 people. Within Adeas the communication lines are short and decisions can be made rapidly.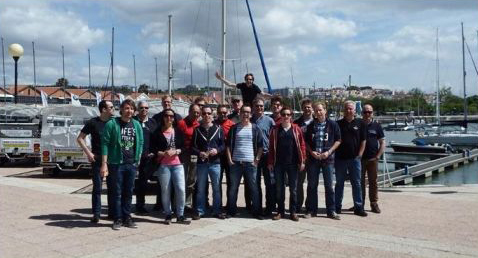 You have the ambition to further develop your design skills by developing hardware for broadcast and pro AV systems as well high tech industrial equipment. You enjoy broadening and deepening your knowledge and collaborate with FPGA, embedded software and mechanical designers to design, integrate and validate high speed data processing systems.
You want to design from start to finish and have the skills to do the schematic entry, library management, PCB layout, test and verification of your project. This includes documenting your design and make changes where necessary to finalize a solid solution that is ready for (series) production and assembly.
You like challenges and are not afraid to take responsibility. You look forward to work in a company where you have real influence in a job that doesn't feel like a straitjacket.
Discussing project hardware specifications and requirements

Designing schematics of electronics on system, board and module level

Implementing the design in a PCB layout

Communicating with EMS regarding production aspects of your design

Testing and validating your design and bring it to maturity

Collaborating with HW/SW/FW/Mech colleagues in multidisciplinary development projects
You are a capable designer of digital electronics at system and board level

You have an accurate and quality minded attitude

You can work alone just as easily as in a team with colleagues

You are familiar with Design for manufacturing, Test and Reliability

You have knowledge of Signal Integrity aspects

You are able to switch your attention easily

You communicate easily and fluently with all stakeholders of a project

You master the English language at least at C1 CEFR level and Dutch at A2 level
A Bachelor's or Master's degree in Electronics Engineering or equivalent

At least 5 years professional experience as a designer of digital electronics
Challenging technology in rapidly changing markets

Working in a High Tech environment

Pleasant colleagues and informal working atmosphere

Advanced tooling and labs with high-end measurement equipment

Modern, easily reachable and spacious offices with ample parking space where you have your own desk and labspace

Hybrid working (from home and Adeas offices)

25 to 38 holidays per year

Attractive secondary benefits like: training budget, pension, performance bonus, company stock plan, etc.
Apply by sending a cover letter and resume and we will respond within a couple of days.
We have a strong preference for candidates that are already resident of the Netherlands or Belgium.
We stimulate candidates for this position to apply directly not through a secondment or recruitment company.